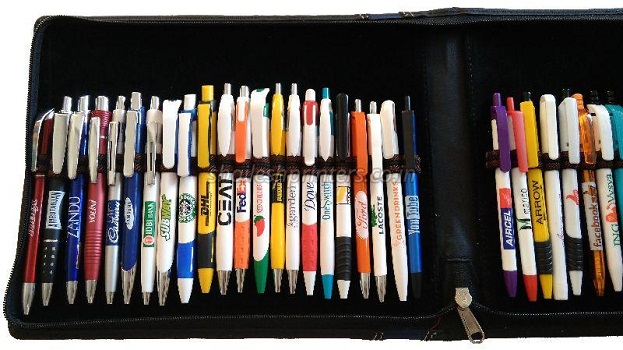 It is universally accepted that a pen is mightier than a sword. Especially when a pen comes with a striking printing then it is mightier than ever. Promotional pens with prints are the number one promotional item favored by businesses, institutions, and consumers. Pens are ideal for taking quick notes even in this technological age. Often it is just faster to take out a pen than opening a particular application on a mobile phone to write down the information. Companies or businesses those who choose promotional pens with prints and designs are utilizing the best form of advertising outside of online social media networking. Pen with a particular company's logo, address, and phone number on it, helps the company certainly to gain popularity and to possibly acquire a number of new customers.
There are many companies those who place advertisements on pens for a very good reason. These types of pens used for advertisement and help companies to remind their consumers about the offered products or services. Advertisements are generally placed on the side of the pens with information like the company's name, address, and phone number making it easy for customers to keep in contact. As we know pens are frequently borrowed or passed around from other people, pens with advertisements are an ideal means of reaching new customers.
There are many companies in India providing excellent pen printing services to design and print the promotional pens which is one of the best marketing tools and used by thousands, perhaps millions, of businesses every day with astounding results.
Pen printing methods used by the companies providing pen printing services: -
• Pad printing: - This is one of the common methods of printing pens. The design is first inscribed on a metal tray called cliché. Then the inscribed portion is filled with the chosen ink. Any excess is scraped off and a silicon pad is pressed against the design and then transferred it onto the pen. Normally, a separate cliché is needed for each design and ink. Pad printing is ideal for printing on narrow or curved pens, clips, and metal pens. The main advantage of using pad printing is that we can make detailed logos and small text with no loss of quality. This printing method also allows for printing on convex, concave, and uneven surfaces.
• Screen printing: - This method of printing is done by using a squeegee to press the color through a fine, stretched mesh and transfer the color onto the pen. In this method, a film is produced with the print design and then the film is projected onto the cloth in between which ensure that only the color of the design passes through. Screen printing offers the advantage of printing on the whole surface of the pen or at least as much as the shape of the pen allows.
• Foil printing: - It is an exciting technology of printing that offers an eye-catching, shiny end result on the pen. This printing with foil is done using a heated cylinder that is applied a thin layer of foil on the intended print surface. This method is limited to gold or silver foil and is not suitable for printing in multiple colors or a specific ink.
• Digital printing: - A digital flatbed printer is required for this digital printing. A special plate is placed on the pens and a print head goes back and forth over the pens to transfer ink onto the surface of the pen. Digital printing opens up a multitude of possibilities, both in terms of printing logos in different shades or printing images and photos on pen's surface.
• Engraving: - This involves amplifying light and applying electricity to create an optical beam, or a laser, which then etches a predetermined design on the pen's surface. This method is used to engrave metal pens with painted surfaces. Engraving is ideal for pens that must stand up to continuous use and exposure to harsh environments.
Adopting all the above pen printing methods, the pen printing service providers in India strive to deliver excellent pen printing services to the clients. For an outstanding range of pen printing services, you can also rely on the companies providing pen printing services in Nagpur. They assist the clients to design and print their promotional pens to grow their business at an effective rate. With a team of designers and print professionals, the pen printing service providers render pen printing services to meet the needs of the clients effectively.