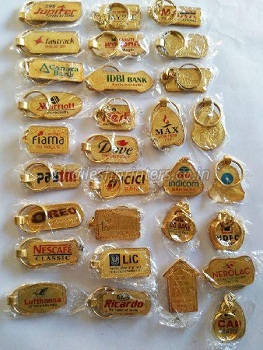 A Keychain may seem like an infinitesimal object to some, but they are also mementos with affectionate value to many others, often obtained as souvenirs from trips to far-off places as a nostalgic reminder of holidays that feature popular monuments or characters. Keychains are the obvious choice to buy for friends and family as gifts because of its light weight and amazing variety.

In fact, keychain is a popular handy gadget you often use frequently in our day to day lives. You all have keys around you, whether it may be a house key, locker key or a car key and a keychain attached to your key not only makes them look more appealing to the eye, but also makes the keys stand out so it is easy to locate them. First thing we reach for when looking for our keys on a regular basis is possibly the keychain.

As part of a modern fashion trend, teenagers often collect many keychains by teenagers to be used for locker keys or hung on zippers of backpacks to make a vivid statement and as a display of aptitude and distinctness. Henec, they are an exemplary way to express your personal style to others.

A multitude of novelty keychains made from different materials available in the market in numerous attractive colours, designs and sizes. Metal, wooden and Acrylic are amongst the most famous materials used for making keychains. There are also leather key fobs and some other types of keychain patterns that are made out of rubber, plastic and wood. These days, metal keychains can also be personalised with pictures of loved ones or company names which can be given out for the purpose of brand promotion. That's how effective advertisements are nowadays by having the company\\\'s name and logo printed on the alluring metal keychains.

Metal keychains are one of the best selling souvenirs and gifts across the world. Personalised metal keychains are highly durable and will definitely be a memorable gift to be cherished forever. It will indeed show a great sense of care to the receiver.

There are metal keychains attached to almost everything, from bottle openers, Swiss knives and torches to tiny notebooks and nail cutters. Some metal keychains have a clip instead of a split ring which can be attached to a belt loop to ensure that keys don't get lost and can be easily accessed when needed.

There are many uses of a metal keychain and if you are looking to buy a metal keychain that looks attractive and worthy, find a Metal Keychain Supplier India who provides high quality metal at reasonable rates.

The reputation of Metal Keychain Suppliers in India is due to the following reasons-

-They procure a myriad of metal keychains from trusted vendors who are appreciated for their quality.

-Their team of quality experts visit the warehouse of associated vendors to check the quality of Keychain range on various parameters.

-They provide metal keychains in various shapes, designs, patterns and sizes to meet the diverse needs of the different customers.

-They have a spacious well equipped storage facility to fulfil bulk orders.

-They provide printing services also to offer customised keychains as per the customer's requirement and budget.

-They provide 24/7 services to customers and flexible mode of payments.

-They have an efficient logistics team to make the distribution process quickly, safely and within stipulated time at a correct location.

Therefore, it can be concluded that a beautiful customised metal keychain is the best thing as a gift that is suitable for everyone and all occasions including promotional events.
This entry was posted on June, 16, 2021 at 10 : 12 am and is filed under Metal Keychain. You can follow any responses to this entry through the RSS 2.0 feed. You can leave a response from your own site.