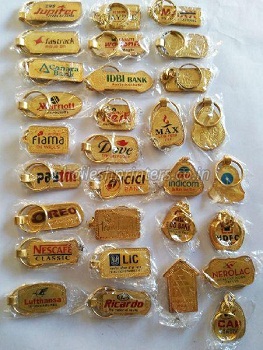 A keychain is a small metal chain, which helps in connecting small items to any keyring. The keychain can be either a metal keychain or a plastic keychain. The keychain's length allows any item to be used much more easily than when it would be connected directly with a keyring.
What is a Keychain?
• A metal keychain helps in connecting any small items to any keyring. Some types of keychains allow both or sometimes just one end to rotating and prevent the keychain from getting twisted when the item is being used.
• A person can also use a keychain for connecting the keyring and the person's belt. It is mostly done by a personnel whose work needs really frequent usage of keys, like a prison officer, society guard, store manager or janitor, etc.
• Mostly the chain is retractable and hence mostly nylon ropes are used in place of any real metal keychain. The chain makes sure that the person who is using the keys does not lose them and finds them handy whenever required.
Uses of Keychains -
• The keychains help the most in advertising any item. Mostly any keychain is used in business for doing promotions and advertisements.
• A metal keychain can help in promoting a business by having the company's name, contact information, and also a logo.
• When people buy a keychain and they get to see the name of any certain company, they get promoted, that's how advertisements are done.
Keychain Used For Promotional Purpose-
• During the 1950s and the 1960s as there was a lot of improvement in manufacturing procedures and techniques that metal keychain became a unique promotional item.
• As Keychains are small in size, and also inexpensive hence, the big shot companies, could just give out the metal keychains by millions of people.
• If there is a show or a new movie launch then the companies can partner with food companies and give out one metal keychain with each box of their food product.
• That way the more people will buy food, the more will they get to know about the movie or the show or whatever they want to promote.
• As the metal keychain is much stronger and longer lasting than the plastic ones, therefore, carving them out and giving them out can be much more beneficial. As they are more long-lasting.
Other uses of keychains-
• The metal keychain which now holds the keys is such an item that the owner would never want to lose. There people who even attract their keychains with their belt loops or just go the belts so that they don't lose it. And also so that they can find them easily when required.
• For having quick access to the keychain they keep it attached to their belts. Many metal keychain suppliers offer some other functions also like, bottle opener, army knife, address book, pepper spray, family photos, photos of their Gods, pill case, nail clipper, etc.
These were the various uses of keychains. So when you go out to find a metal keychain supplier India, make sure you choose a company that provides good quality metal. A company who has quality products at affordable price rates.