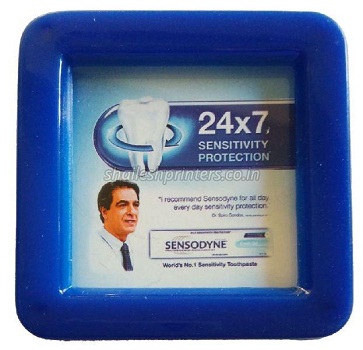 If you are considering using promotional items to accelerate your revenue prospect along with advertising, then the promotional paperweight is a good option for you. These convenient, useful and eye-catching work table accessories not only help sell your company or business, but they also send any specific message you want to convey to your clients. These are made available by many promotional paper weight suppliers India in a wide range of styles, custom designs, and prices.
Let's here look at some of the astounding features of these paperweights, how they make a great choice as promotional items, as freebie giveaways or corporate gifts.
1. It is an ingenious approach to get your business or organization's important information out into the mainstream of the purchasing or supportive community.
2. Depending on the style, design, and material of your choice, promotional paperweights offer quite sufficient space on which to advertise.
3. It has a lot of areas to include not just any company's logo or school symbol, but can also comprise addresses, contact numbers or website particulars.
4. These work great to give an impressive first impression as engraving crystal paperweights look amazing on desk or table.
Some of the unique ideas you can use a promotional paperweight.
• Giveaways
• Staff incentive awards
• Long service gift awards
• New product launch
• Company anniversary award
• Thanks for giving a memento
Types of paperweight
Normally promotional paperweights are made of glass or crystal. Other materials comprise
• Stone (carved or natural oval),
• Clay (pottery/ceramics),
• Plastic,
• Wood,
• Bronze,
• Steel (especially stainless)
Crystal paperweights are mostly preferred as a promotional gift due to an appealing appearance. However, stone promotional paperweights are good for engraving info. The wooden paperweight is mostly affordable.
Leading manufacturer of promotional paper weights takes care of the demands of the customers. They can customize the design, pattern, or facts according to the demands of customers.
Where to get promotional paperweight?
There are promotional paperweight suppliers in India. But find a certified one only as,
• They use only quality raw materials for the production of the entire range of paper weight.
• They make available paperweight in appealing designs and shapes.
• Easy customization is also available in any required specifications.
• Placing bulk as well as urgent orders with them is easy.
• They deliver the same within the promised time frame as well.
Known manufacturers of promotional paper weight in India offer quality products at the most competitive prices.
Search online for various names and compare their services first along with reading their customers' reviews to judge their trustworthiness.